I was reading through some posts from earlier this year and spotted one RE: the proper stowage of the SMLE weighted pull through bore cleaner. While it's important to many (sometimes myself included) to have authentic accessories for our relics of days gone by, I thought until I came across one at a decent price (including S&H) a reasonable facsimile would be pretty easy to make. So I did.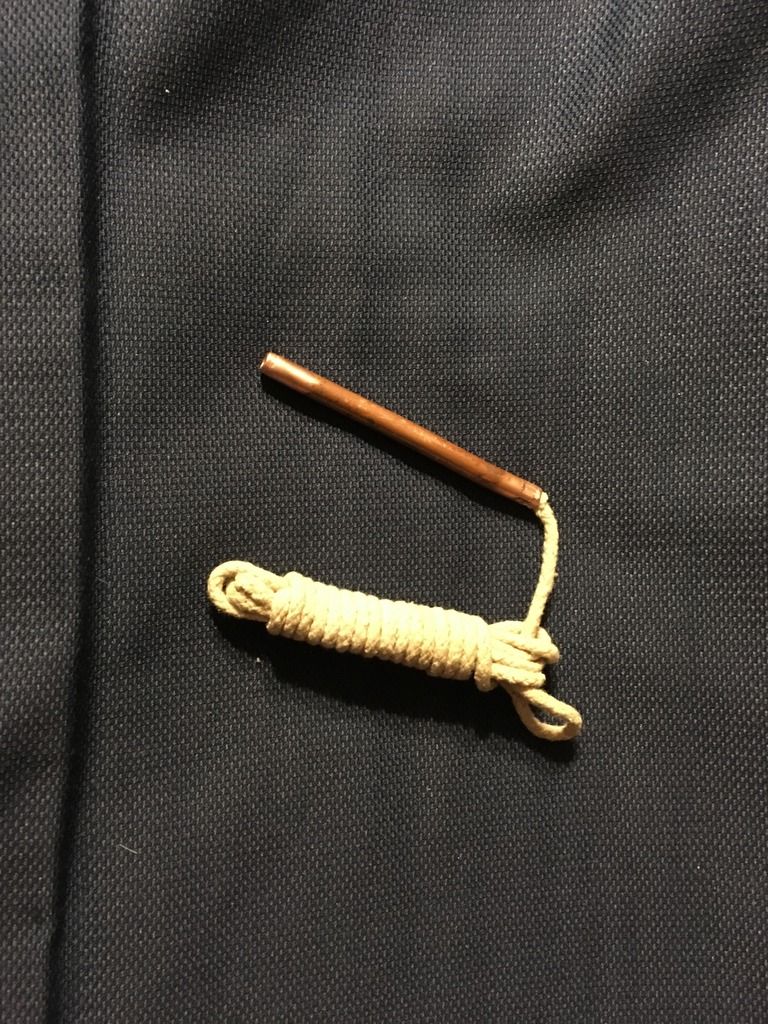 I realize that most of the "authentic" pull throughs have a brass weighted piece attached to the cordage, I thought any metal that was softer that the steel of the barrel would do. I chose a short (~4") piece of 1/4" soft copper tubing for my weight. While I think that it was prolly heavy enough to easily drop through the breech and continue on to the muzzle, I decided to beef it up some by slightly crimping the end of the tubing and filling it with spent .177cal lead pellets
. I secured the pull through cord to the weight by again crimping the end of the tube. On the authentic pull throughs, the loop end is formed by what looks like a rope splice but I merely "whipped" the loop in place using some heavy thread.
RE: the cordage, well it's cotton and looks kinda old
, I'm sure it will do the job. After completing the project, I did read that the authentic pull throughs are 49"-51" in length. Mine is a bit longer. I could easily undo the whipping at the loop end and shorten it some but that will have to wait.
Bottom line, when wrapped per the instructions in the post on proper stowage, the cord portion stows nicely in the drilled out portion of the buttstock and the weight stows nicely in the hole drilled just beneath the hinge of the buttstock trapdoor. It's not "the real deal" but works just as well and fits in the buttstock nicely. Comments welcome.
Spavac