Well, I just couldn't sleep with dismounting the musket.
I had to know what the underside of the barrel looked like.
I tapped off the front band, after a few wraps with a rubber mallet it came free. Sure enough I was right, it has been shortened by an inch or a little over, as the band spring inlet continues past the band spring. I'll sand that down in the coming days so that sliding the band on and off is easier, and will no longer risk damaging the stock or band. The mid band was also on backwards, and had to be tapped off. When installed correctly, it slides on and off.
Well, I can't believe it. The underside of my Nepalese Martini Henry Mk II was pitted, cosmetically pretty badly. Same with the Nepalese Pattern 1853 Enfield, although not as badly.
There is not one speck of pitting on this rifled musket. Not one. No where. The underside of the barrel has some discolorations, and a recessed line, but otherwise is smooth as a baby's butt. The insides of the barrel bands are pit free. I keep telling my wife, if I didn't know better based on the markings, size, shape, feel, and what repros are out there, I would think this is a repro it is in such good condition. Stock has a few dings and handling marks, but nothing serious.
I'm stopked, a desireable, and extremely shootable rifled musket. I love it! I have some .672 cal lead balls from when I had an Armi Sport 1842 repro, and they fit snug in the barrel, so I can finally send them downrange too.
Now I just need to get some gun grease and grease all my rifle and musket locks. I've always just oiled regularly, but the internals of this lock are casecolored, and I want to save that (part has worn off under the tumbler from the sear, as expected).
Pics!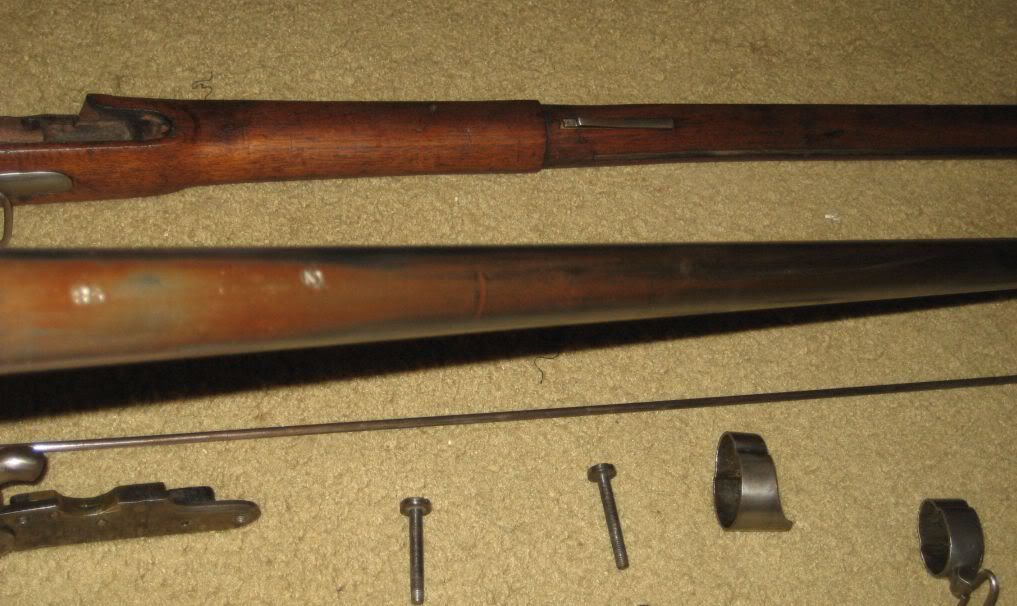 Barrel actually isn't this bad, stupid flash makes it seem that way.