Originally posted by Carteach0.
During the Hi Power shoot this past weekend I noticed Kent was competing with
a garand and CMP ammunition. I asked if I could have some of his left over to
examine. He nicely gave me the seven rounds he had remaining after the match.
Those seven became the sample batch for this examination.
This 30-06 ball ammunition from the CMP is headstamped LC69, and comes in a box marked for the
CMP and packaged by Talon. It's boxer primed, with both bullet and primer sealed.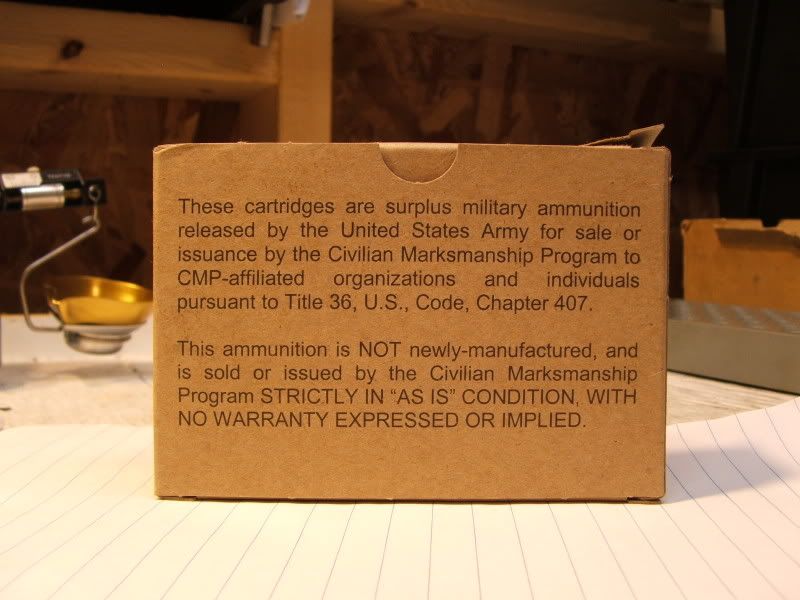 As before, I made a number of external measurements to the case, as well as weighing
and measureing the components. Again, as before, weights were taken using
a RCBS 10-10 scale, and most measurements were made using Mitutoyo digital
micrometers. To the measureing array was added a Central tools vernier caliper
used to check overall all cartridge length.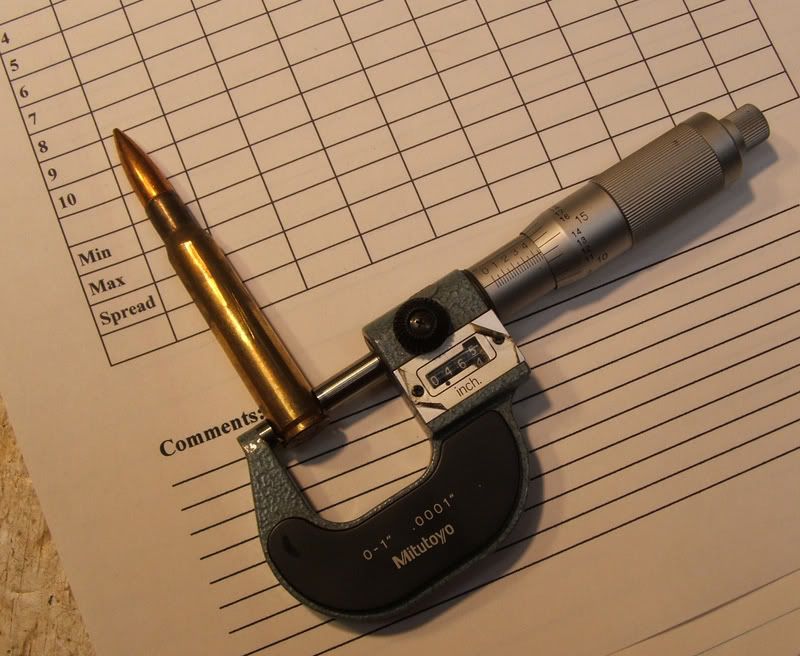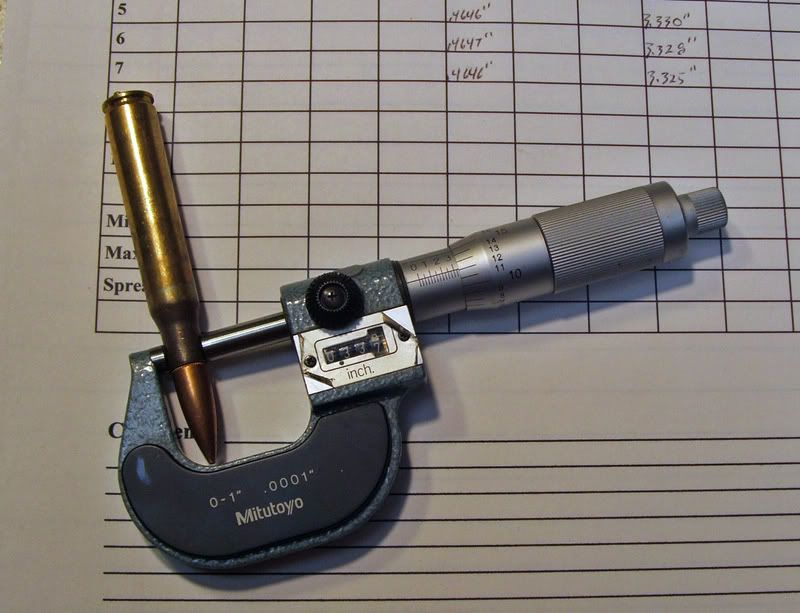 The overall length varied from a low of 3.325" to a high of 3.333". This .008" spread
seems to be accounted for in the bullet seating depth. Several were different.
All seemed to be seated and lightly crimped into the canalure of the bullet.
The cartridge bases measured at .4643", with only a .0006" variation. The loaded
round case necks ranged from .3351" to .3370", with the .0019" variation seeming to be
solely explained by case neck thickness variations. The bullets the cases were crimped
on had almost no variation.
The bullets were a Spitzer design with an exposed lead base. They were sealed into the
case with a tar like sealer that was not hardened. Bullet pull tension was even to my
non-scientific tension measureing tool (right arm and wrist).
The bullets weighed in from 150.7 grain to 152.0 grains, with a 1.3 grain spread. I cleaned
the sealer from the bullets before weighing and measureing, so the weight variation
belongs to the bullet QA process.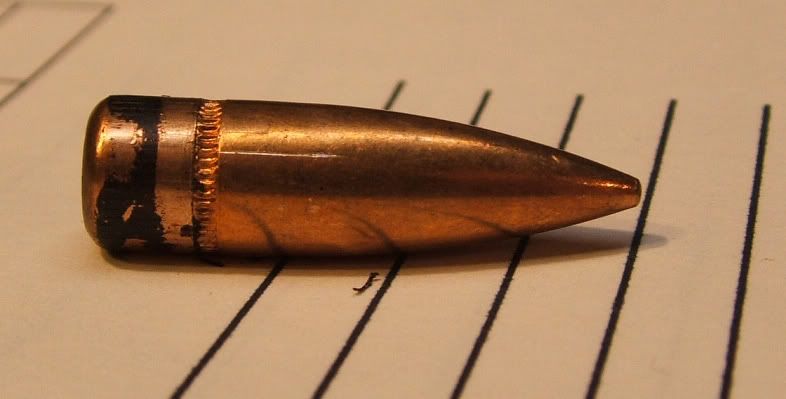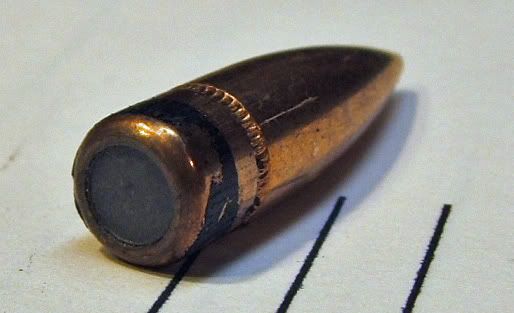 Bullet diameters measured on the thin side for a .30 caliber bullet. The low
side was .3077" up to a high of .3081", or a variation of .0004". While
diameter variation is slight, the generally thin bullet spec might be a problem
for shooters with a bore a little worn or wide.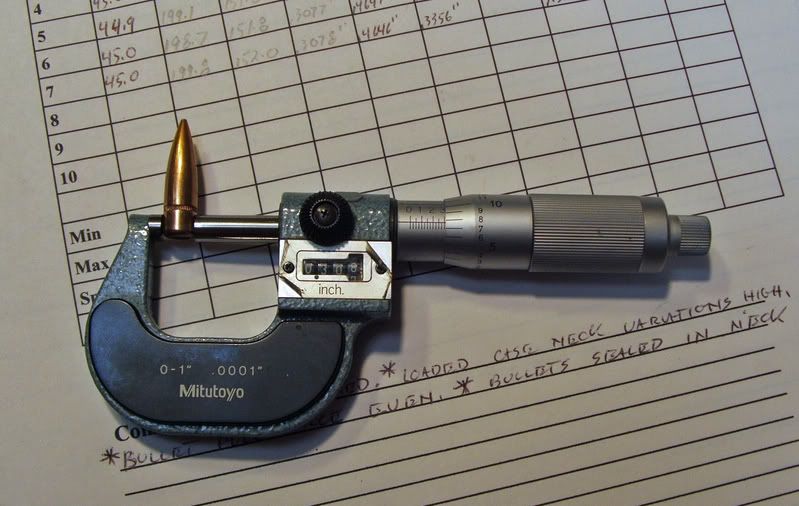 The powder is a long grain extruded grain, with the appearence of IMR 4350.
Powder weight variations were excellent, with six of the seven pegging exactly
at 45.0 grains while one drifted a tad to 44.9 grains. Less than a tenth variation
on factory loaded extruded grain is quite good.
The powder appeared good, looking as fresh as my newly opened IMR powders.
Case weights showed the widest spread of any component checking in this sample.
Low weight was 198.7 grains, while the high was 200.0 grains. This spread was not
terrible, but could be a bit tighter. If I was going to use these cases for precision
loading I would certainly segragate by weight better than the factory did.
Conclusions: This is decent quality ammunition that should be quite suitable
for practice and competition. If the shooters rifle does well with it, there is no reason not to use
it for competition at any level. Many people do and see excellent results.
My preference might be for a handload with a bit tighter control on the cases
dimensions and weights.
With this sample I did something a bit different. I went ahead and neck sized the cases
and then reloaded the rounds. I had made an effort to keep each powder load
segragated to it's original case, so reassembling the ammunition was a snap.
I had no problem keeping overall loaded length to much closer tolerances than
the original DCM load.
KENT..... thanks..... and I'll have these back to you at the next shoot!